Juvederm Voluma™ XC
Facial Volume Filler

Juvederm Voluma, the latest product in the Juvederm family line, is the
first and only
FDA-approved filler to treat age-related volume loss in the midface.
Juvederm Voluma treatments can give patients natural-looking results by adding volume to the cheeks and reducing the appearance of sagging skin. Results can last up to
2 years
from treatment.

What is the difference between Juvederm XC and Juvederm Voluma XC?
Juvederm is a smooth gel filler that targets fine lines and wrinkles around the mouth and nose area. Juvederm Voluma targets volume loss and sagging skin in the midface, specifically in the cheek area. Both work to reduce the signs of aging and are quick, in-office treatments that have little to no discomfort or downtime associated with them.
How does Juvederm Voluma XC work?
Juvederm Voluma XC is an injectable gel that uses hyaluronic acid to restore volume to the face. Hyaluronic acid is a naturally occurring, hydrating substance found in your skin that diminishes with age.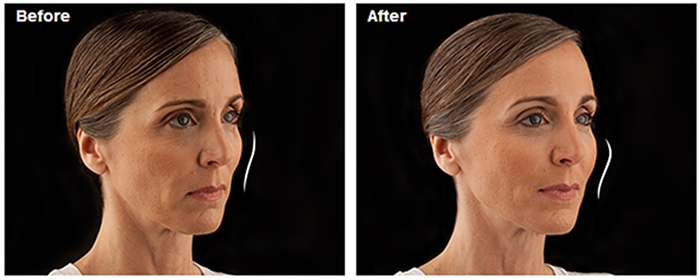 Unretouched photos of a paid model taken 1 month after treatment.
A total of 3.5 mL of Juvederm Voluma XC was injected into the cheek area.